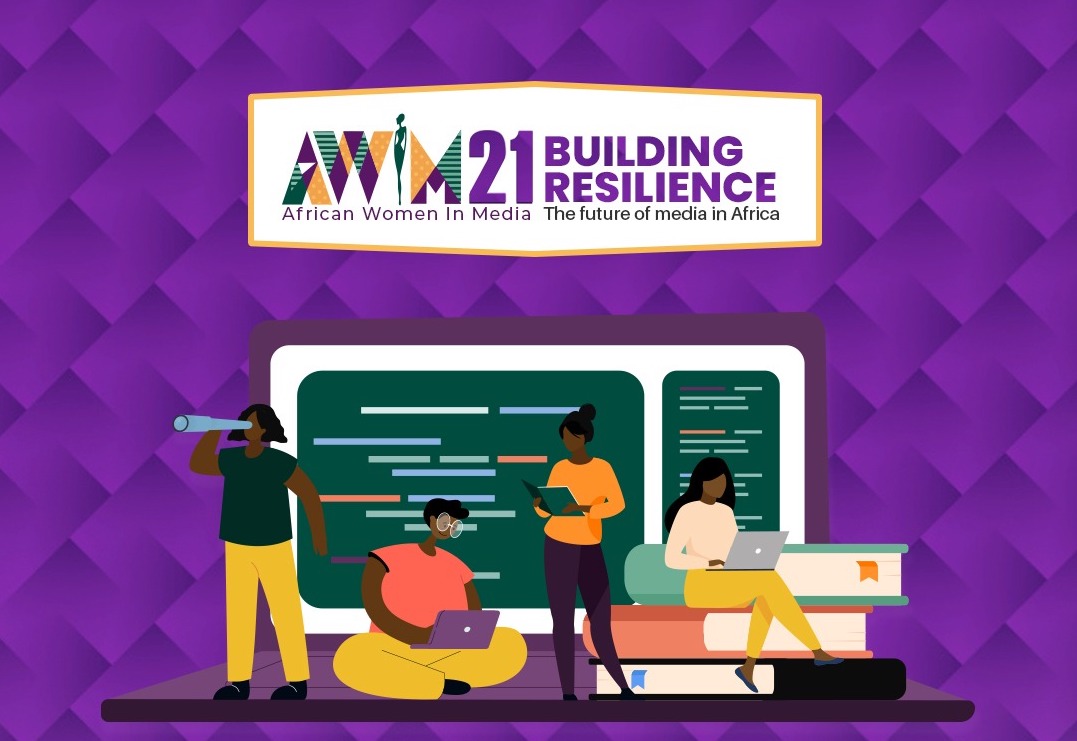 08 Dic

Gender and Media in Africa: Lessons on resilience for the road ahead

Noting that Africa has been "at the tail end" regarding women's participation as sources, subjects and reporters of news, Global Media Monitoring Project (GMMP) coordinator Sarah Macharia urged attendees at the Africa Women in Media (AWiM) Conference to help create a "more just and equal" media ecosystem in the continent.

Speaking on the first day of the December 6-8 conference, Macharia cited GMMP data which shows that in 2015 and 2020, women were 22% of sources and subjects in Africa's mainstream news, a figure currently below the world average of 25%. Women constitute 32% of reporters in mainstream news, "a result that places Africa well below the world average on this indicator," she added.

"Remembering 'why' is enough impetus to persist," she said. Macharia, who is also WACC's program manager for Gender and Communication, told an online audience composed of media practitioners, organisations, academics, policymakers, and gender and media civil society organisations. The theme for this year's AWiM conference is Building Resilience: The Future of Media in Africa. "It is an opportunity for reflection on the industry in the pre- and post-pandemic world and as a response to the renewed commitment to advance agendas around women's rights and representations in the media," said the organizers.

Macharia identified three tools that could help transform the news media into one that "enables women's full and equal participation: through media policy and regulation, media practice, and active media citizenship.

"It is not enough to have policy if those implicated in upholding it do not know about it. Research on media law and policy has traced success to a culture of dialogue about the gender policy provisions within newsrooms," said Macharia.

Practicing journalism from a gender perspective and applying a gender lens to understand the basic tenets of professional practice such as accuracy, fairness, balance, and truthfulness, will also have a profound impact, she said.

Active media citizenship includes media watch and advocacy, "an approach exemplified by the GMMP," she added.

In her remarks, Macharia said the GMMP "came out of concerns about the lack of respect for the integrity and dignity of women." She noted that four years ago, the GMMP revisited its foundational document — the 1994 Bangkok Declaration — "and retained a lot of the original text because the problems were not only still present but had crossed over into the digital media space."

Both traditional and new electronic media "are domains of male, patriarchal power, and domination, replete with degrading, humiliating and pornographic contents regarding women, she said. "Online media contents reproduce the exclusion and ghettoization of women, both within the media product and in the comments and responses of new interactive audiences that become co-authors of the process of promoting and legitimizing misogyny as public discourse."

Macharia acknowledged that "gender equality work is uncomfortable for the status quo, it asks questions about discrimination against women and girls and stands in solidarity with other groups that are oppressed."

But while it can be isolating, champions of gender equality often find communities "that when plugged into, will lend strength, energy and purpose," she said." Our network members have found this to be true – to quote one, you realize that there are so many others who are concerned about the same thing."

Macharia noted that the GMMP, which has taken the pulse of gender in the news every five years since 1995, celebrated its 25th year of "media watching." Despite the Covid-19 pandemic, which struck just as the GMMP was planning its 6th global monitoring, "the project and the network that implements it did not only thrive, but we grew, expanding into 116 countries, monitoring more media and collecting a larger volume of data than ever," she said.

The other speakers at the conference plenary included Phathiswa Magopeni of SABC (South Africa), Lina Attalah of Mada Masr Media (Egypt), and AWiM's CEO Yemisi Akinbobola. Journalist Mercy Frank of Silverbird Television (Nigeria) moderated the session.  

The conference is organized with the support of the MacArthur Foundation, International Center for Investigative Reporting, Women in News (WAN-IFRA), Fojo Media Institute, United Nations Environment Programme and UN Women.