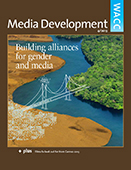 Media Development: An international quarterly journal dedicated to the theory and practice of communication around the world. Media Development is published by WACC
Building Alliances for Gender & Media
Rethinking Media & Gender Justice
Other issues here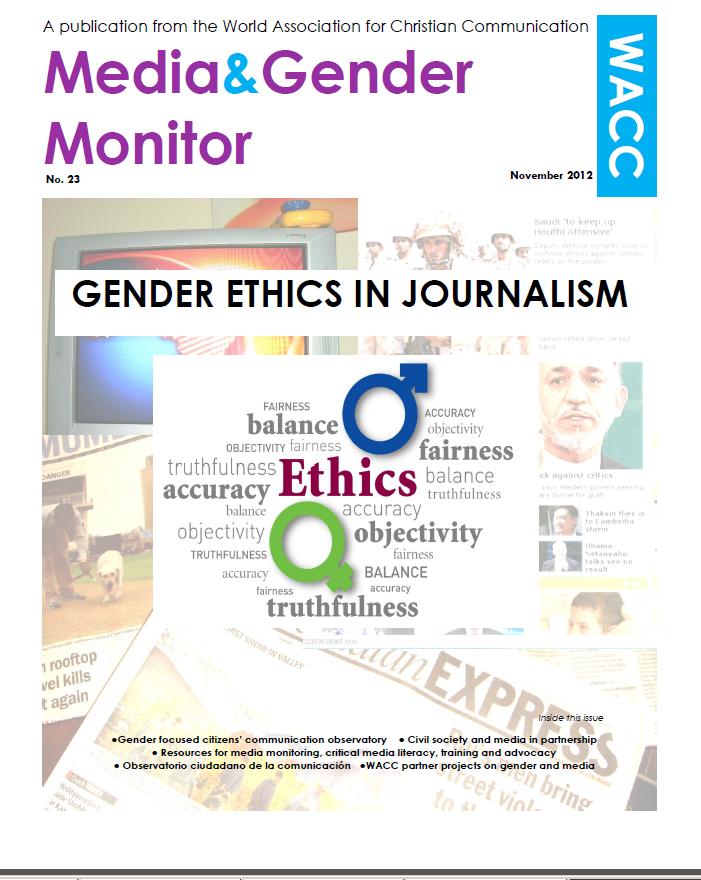 Media & Gender Monitor: A bi-annual publication from WACC that seeks to address a wide range of gender and communication issues.
Issue 24: Towards 2015 – A Communication Rights Agenda
Issue 23: Gender Ethics in Journalism
Issue 22: The GMMP – An Agenda for Action
Other issues here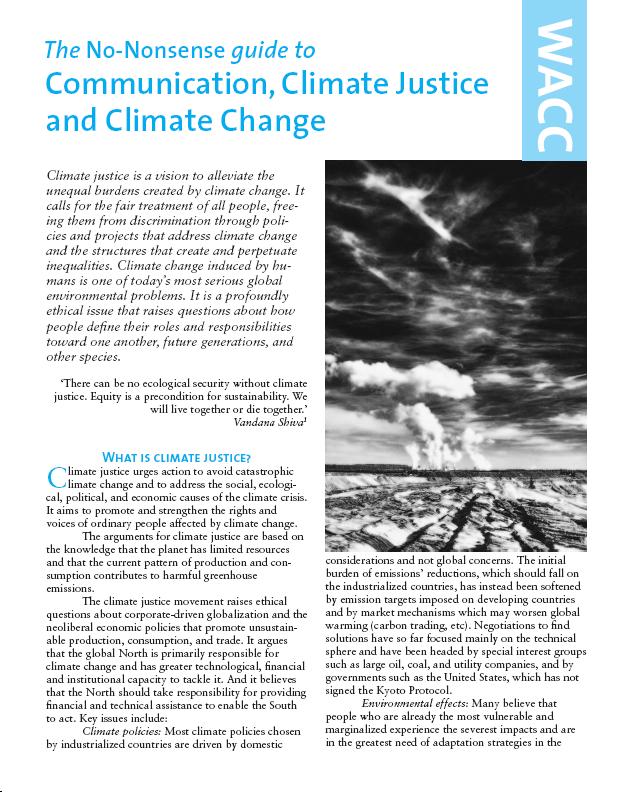 No-nonsense guide: Six-pages of useful information on different aspects of communication intended for practitioners and activists. Published by WACC.
A No-Nonsense Guide to Communicating Women and Peace and Security
A No-Nonsense Guide to HIV/AIDS, Gender Equality and Communication
Other issues here
More publications related to Gender and the Media that may be useful for your own work and research (listed in alphabetical order):
MEDIA AND GENDER: A SCHOLARLY AGENDA FOR THE GLOBAL ALLIANCE ON MEDIA AND GENDER
This volume charts the current status of research on gender and media, highlights gaps and suggest directions for future research and action. Published by UNESCO, Paris, 2014.
CONTENT DISCONTENT: TOWARDS A FAIR PORTRAYAL OF WOMEN IN THE MEDIA  (12.89 kB)
A handbook on the coverage of women and men in the media published by Instraw/SER, Santo Domingo, 1995.
COMMUNICATING FOR CHANGE: GETTING VOICE, VISIBILITY AND IMPACT FOR GENDER EQUALITY
A handbook for editors and journalists published by Inter Press Service, 2009.
FROM COUNTING WOMEN TO MAKING WOMEN COUNT (2282 kB)Focussing on women in media development programmes, this publication "attempts to orient media development practitioners with both a historical and contemporary view of key policies, studies and approaches to gender integration". By Manisha Aryal, Internews and Craig LaMay, Northwestern University. Published by Internews, 2013.
THE GENDER AND MEDIA HANDBOOK: Promoting Equality, Diversity & Empowerment (2.39 MB) 
By the Mediterranean Institute of Gender Studies (MIGS) in Cyprus.
INSTRAW PROGRESS REPORT: WOMEN AND THE MEDIA (570.07 kB)
By the United Nations International Research and Training Institute for the Advancement of Women
IWMF GLOBAL REPORT ON THE STATUS OF WOMEN IN THE NEWS MEDIA 
Published by the International Women's Media Foundation (IWMF), this report presents data on the status of women working in news media organizations around the world.
PEACE JOURNALISM: HOW MEDIA REPORTING AFFECTS WARS AND CONFLICTS
A report by the Kvinna till Kvinna Foundation (Sweden) on how media reporting affects wars and conflict. Also available in Arabic and Bosnian.
SEEN BUT NOT HEARD HOW WOMEN MAKE FRONT PAGE NEWS
An analysis of front-page news in British newspapers with respect to the portrayal and representation of women.
VIRTUAL RESOURCE CENTRE
A special database by Gender Links containing Southern Africa case studies.
VIOLENCE AND HARASSMENT ABOUT WOMEN IN THE NEWS MEDIA – A GLOBAL PICTURE
A report by the International Women's Media Foundation (IWMF) on violence and threats women journalists face in the course of their work. 
WMF  MEDIA GUIDE TO GENDER NEUTRAL COVERAGE OF WOMEN CANDIDATES AND POLITICIANS
A guide by the Women's Media Center (WMC) on gender neutral media coverage of women politicians.
WMF THE STATUS OF WOMEN IN THE US MEDIA IN 2014
A report by Women's Media Center (WMC) on the status of women in American media.
WINNING STRATEGIES: CREATING STRONGER NEWS MEDIA ORGANIZATIONS BY INCREASING GENDER DIVERSITY
A handbook by the World Association of Newspapers and News Publishers (WAN-IFRA) on media success stories in gender diversity as a part of WAN-IFRA's Women in News: Gender and Media Freedom Strategy initiative.