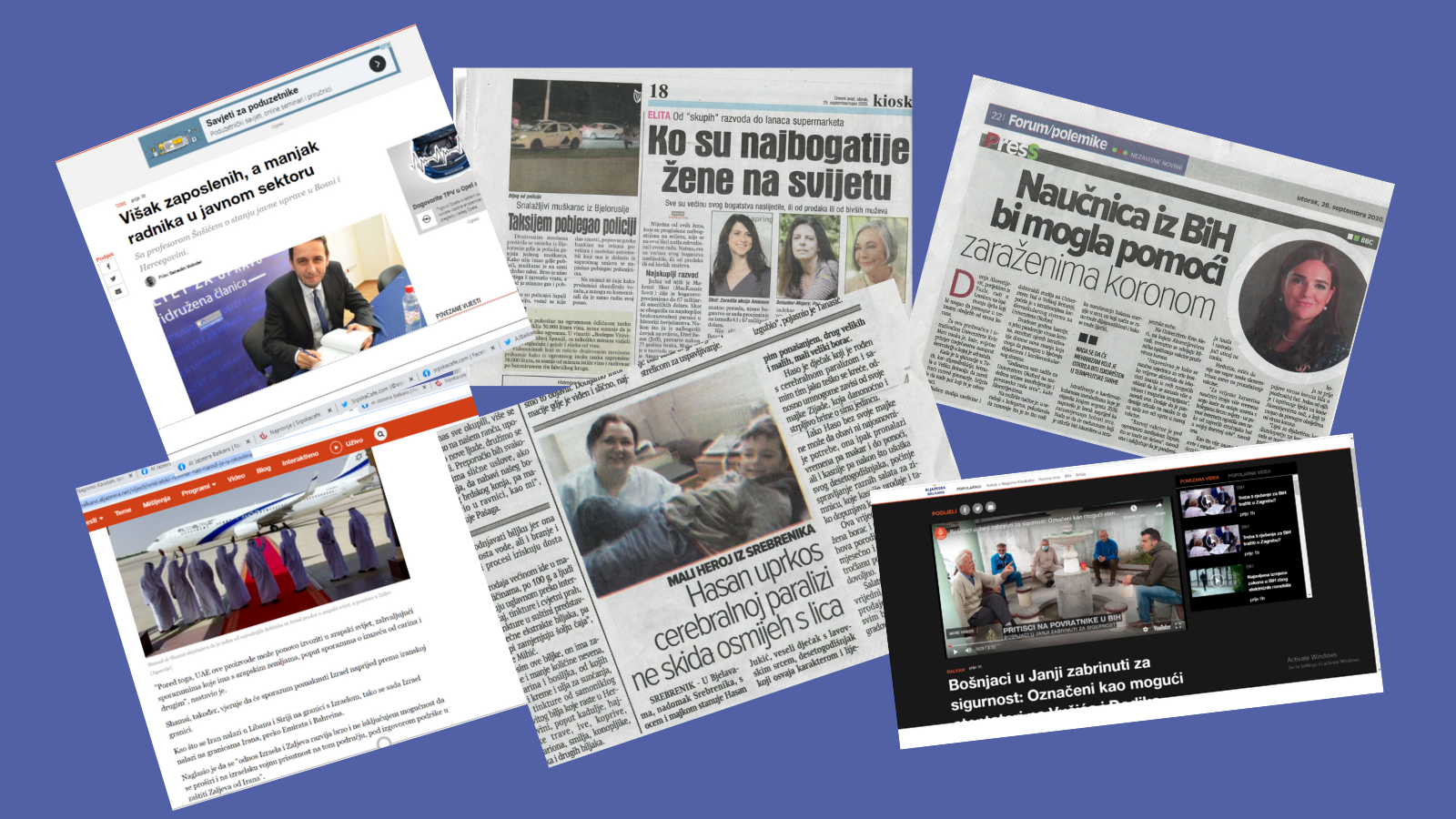 08 Feb

Slow progress in representation of women in Bosnia-Herzegovina news

 

"It is again noticeable that there has not been any progress made in the last five years when it comes to representation of females in the news" in Bosnia and Herzegovina media, according to the NGO Novi Put, which took a snapshot of the day's news for the latest Global Media Monitoring Project (GMMP). "Like the previous GMMPs, women are still under-
represented as news subjects compared to men."

Women were tapped more as providers of personal experience (from 19% to 42%) and as eyewitnesses (from 20% to 33%), while men were often
presented in positions of authority, such as experts (77%) and spokespersons (77%), said Novi Put in its GMMP report.

Women were also hardly present in topics that are considered more
important and consequential, appearing in only 12% of news on politics and government, 24% on the economy, and 8% on social and legal topics. The only news where they appeared more were those related to science and
health.

This is the fourth time that Bosnia and Herzegovina participated in the GMMP, which in 2020 took place at the height of the Covid-19 pandemic.

"Despite the fact that Covid-19 had a major adverse impact on the health situation and economy in [Bosnia and Herzegovina] in the second half of 2020 and women were mostly affected when it comes to economic consequences, as they mostly work in the tourism and other service industries, only Social and Legal-related topics highlighted gender inequalities (14%)," noted the report.

Overall, women were seen, heard from, and written about only slightly more in 2020 than in 2015, or 21.4% from 20.8%. Women had the highest
presence in Internet news (31%), followed by newspapers (29%), radio (21%), and radio and Twitter (both 13%).

Traditional media focused on women as subjects mostly in stories related to celebrity news, deaths and marriages, fashion, and beauty (13%), followed by the economy (11%), science and health (7%) and politics and government (5%). These results "indicate some progress" since 2015, when news stories about women were mostly related to crime and violence
(4%) and only 2% were related to politics and government, said the report.

However, the GMMP 2020 results also show the underrepresentation of women as a central focus in nearly all internet stories monitored, said the
report. While women were the focus of gender-related stories (100%), they were the central focus of only 31% of science and health stories, and 12% of politics and government stories.

"These results should initiate more detailed analysis of digital content through a gender lens perspective, given the increasing exposure of people, especially the younger generations, to digital news, in order to channel their growing influence towards challenging gender stereotypes,
and prevent them from reinforcing them," said the report.

The report also noted that women are still "not taken as seriously as men in the same or similar positions," noting how women politicians are held to
more scrutiny than their male counterparts. "It is evident that since news stories mostly fail to challenge prevailing gender stereotypes, more enhanced cooperation between women's rights activists and journalists
should be undertaken, especially with those publishing digital content, given the increase of the number of people who use the internet."

Novi Put also underscored the importance of gender-ethical reporting, noting that 53% of Bosnia and Herzegovina citizens "significantly trust" the
news media. It highlighted the need to raise broader awareness about the centrality of media and communication for gender equality and human
rights among policymakers, decisionmakers, civil society and the general public.