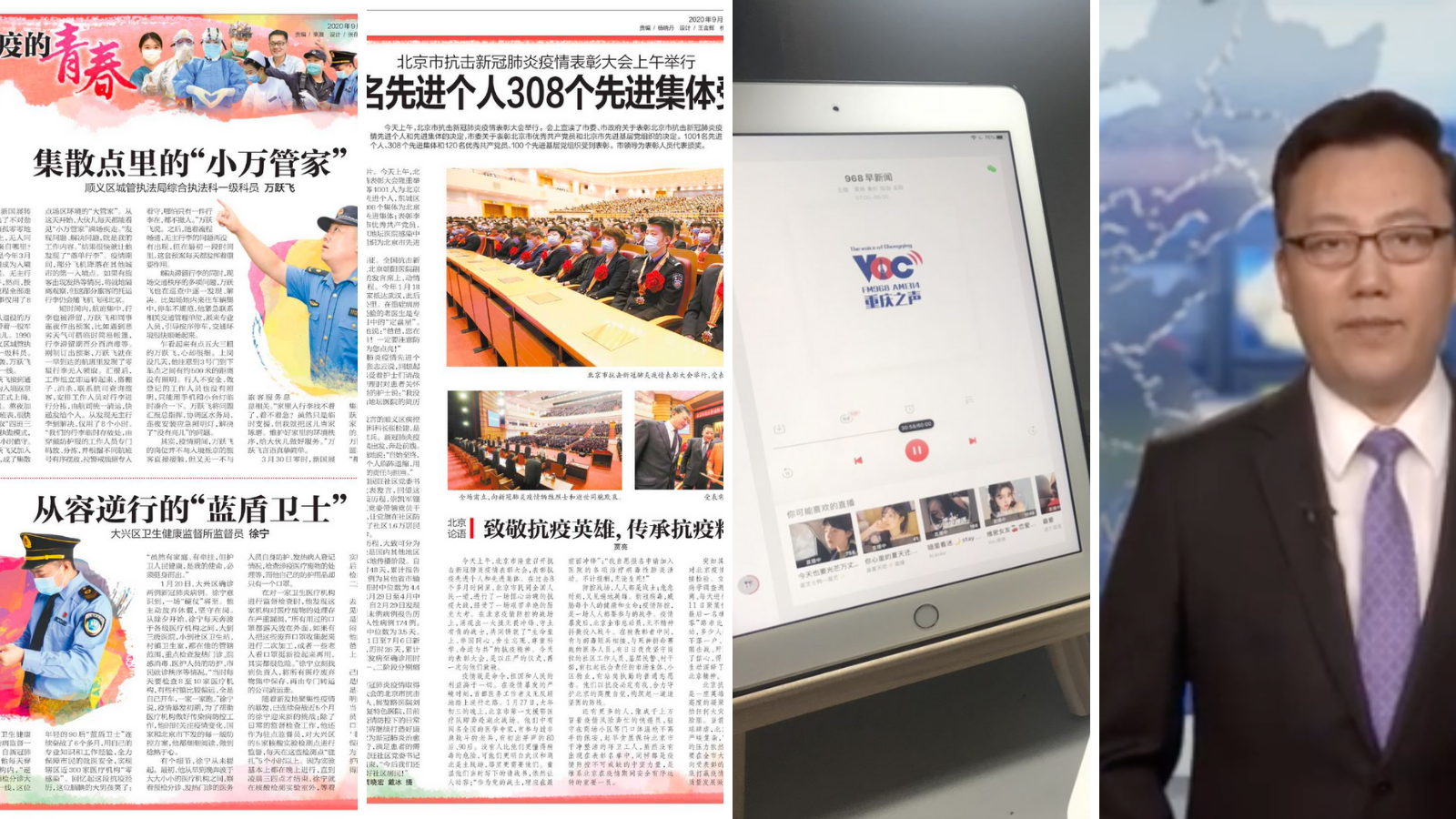 01 Mar

Male voices dominate coverage in China, which has largest news media audience worldwide

Men still dominate the news in China, with women making up only 25% of persons seen, heard, or written about in newspapers, radio, television, and online news, according to the 6th Global Media Monitoring Project (GMMP) China report prepared by the Beijing-based NGO Media Monitor for Women Network.

To place the statistics in context, the report points out that Chinese media have the largest audience in the world. By June 2020, China's Internet penetration rate had reached 67%, and the number of Internet users had reached 940 million. In mainland China, women are approximately 49% of the population, 49% of the traditional and digital media audience, and 51% of all journalists.

Women's current proportion as news subjects and sources represents some progress, compared to an overall presence of 19% and 20% recorded by the GMMP in 2005 and 2010, the last time China took part in the GMMP, a WACC-led initiative that began in 1995. The slight increase in visibility, however, does not translate into women being portrayed in roles deemed important or significant. For example, women comprise only 9% experts or commentators featured in stories. The highest presence of women (37%) is in topics related to "science and health", and "celebrity, arts, media, and sports", said the report.

The research found "gender-related news" – stories about gender-based violence primarily –  in digital media (internet), and the single news subject was a man. Women were under-represented even in stories on this topic, it added.

Women were the central focus in only 4% of news items monitored across 37 newspapers, radio, television, online news and Twitter, the report noted. The highest presence was in in newspapers (12%), and the lowest, in radio (1%).

The GMMP-China report underscores the importance of the GMMP and its findings. "Digitalization has helped the party-state controlled media expand its capacity to reach out to people". China has at least 275 daily newspapers, 278 radio broadcast frequencies, and 34 TV stations, most of which are run by various state agencies, with the exception of a few online news outlets run by large, privately-owned Internet companies.

Overall, news stories are not likely to challenge stereotypes (only 1.2% of all news stories do so) or highlight gender issues (only 1.1% of all stories), says the report. "Even fewer stories highlight gender equality or inequality," at only 1.1%.

Digital media presents more stories that challenge gender stereotypes (1.4% compared to 0.9% in traditional media).

The report also notes that women are 52% of journalists in the stories, 57% of all news reporters and 53% of all news presenters, respectively.

"Female television announcers and reporters were overwhelmingly young, with 64% of them between the ages of 19-34 and 29% between the ages of 35-49," it also noted. "Male presenters tended to be older, with 34% between the ages of 35-49 and 24% between the ages of 50-64."

Only 0.8% of news covered stories related to migrant women. Additionally, just 1% of news covered the impact of Covid-19 on women and girls, as well as women's participation in the fight against the pandemic. There were 0.2% of news items about domestic violence and other forms of gender-based violence.

Responding to the findings, the Media Monitor for Women Network urges China's policymakers to "keep the promises from Beijing in 1995" and accelerate the country's commitment to achieving the strategic goals relating to women and media in the Beijing Platform for Action. The Platform adopted at the Fourth UN World Conference on Women documents the commitments made by signatory States to "increase the participation and access of women to expression and decision making in and through the media and new technologies of communication", and "promote a balanced and non-stereotyped portrayal of women in the media.

Media Monitor for Women Network also urges media organizations and journalists to find ways to "cover stories with gender sensitivity in mind," and news audiences to provide feedback to the news they read, see or hear.

For its part, the organization says it will continue to promote gender-ethical reporting guidelines, best practices and training for journalists, citizen journalists and others in order to advance gender equality in and through the news media.

The GMMP media monitoring was also carried out in Macau, Hong Kong and Taiwan Province of China.