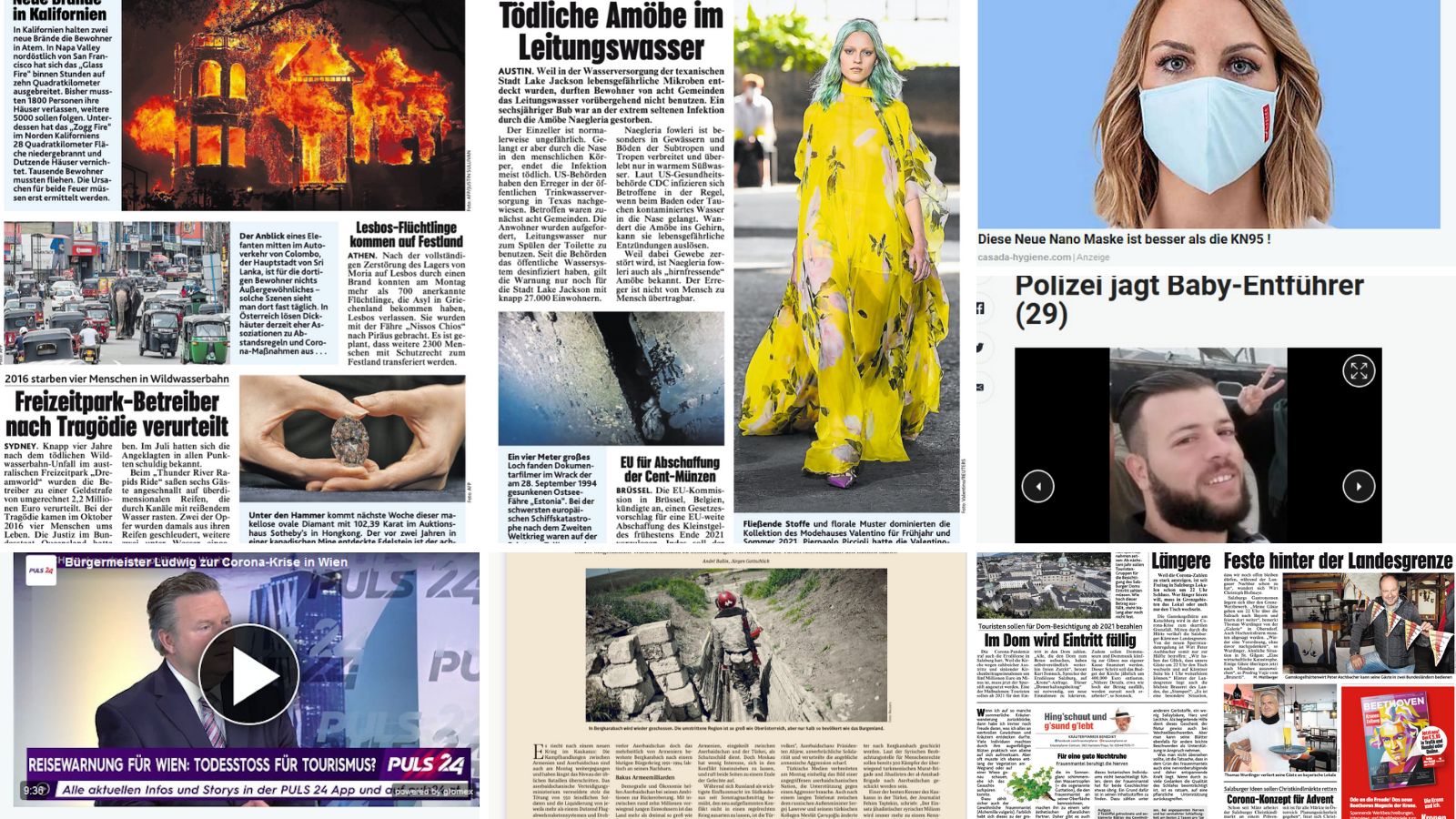 12 Jan

Gender stereotypes still 'widely unchallenged' in Austrian news

The underrepresentation of women in Austrian news media continues, with data from the latest Global Media Monitoring Project (GMMP) showing that of 345 news subjects and sources analysed in the sample, only 91 were women.

Overall, women account for 25% of people seen, heard, or read about in traditional news media, and for 27% of the Internet news sample, according to the GMMP Austria national report. Of all media type, radio accounted for the lowest portion of female news subjects at 12%.

"The results showed that gender stereotypes remain widely unchallenged in the observed news stories," said the report.

Women accounting for a quarter of all news subjects in Austrian news is consistent with the global average.

"Women also appeared less often in high-profile positions than men," in Austrian news, said the report.  In print, radio and television news stories, for example, women account for only 6% of experts quoted or interviewed, and 28% of spokespersons. While the proportion of female spokespersons is relatively similar in internet news stories (27%), female experts feature more online at 37%.

Slightly more than 20% of politicians or members of parliaments appearing in the examined news items, and one third of government employees and public servants are female.

Women, however, account for 60% of office or service workers or non-management workers. The only person identified as a homemaker or parent was female; two retirees were also women.

There were "very few" articles that had women as a central focus, and "hardly any" story addressed issues of gender equality. Only 9% of 64 news stories (categorized by major topic) in traditional media focused on women. Women were the central focus in only 14% of news about politics and government, 13% in news about the economy, 11% in crime and violence, and 10% in social and legal issues.

"In traditional news media, none of the covered news stories made reference to issues of gender equality, legislation and policy. In internet news media, only 2% of news stories focused on gender equality and human rights policies.  "In none of the observed news stories could we find gender stereotypes being challenged, despite some efforts for gender-aware news reporting."

The report notes some differences between the reportage of traditional news media and Internet news media. "The largest difference in percentage could be found in social and legal news stories, where 17% of the news subjects in traditional news media (print, radio and television) and 43% in internet news media were female," said the report. "However, this gap can be explained by the small total number of stories in this field in traditional news media."

The GMMP Austria team also defined special questions related to minorities. "In none of the observed news media reports was a news subject identified as being a member of a religious minority, as having a disability or as being an immigrant or refugee," it said. "However, previous studies have shown that marginalized groups are generally less likely to appear as subjects in news media."

In terms of reporters and presenters, 33% of people identified as authors of newspaper articles were women. On the two monitored commercial TV stations, women comprise a majority (70%) or 28 reporters, announcers and presenters, while on radio they constitute 47% of staff.

The report recommends further action on the levels of regulatory measures, media organizations and news product.

"It is important that diversity in newsrooms and reporting does not only include so-called gender balance which often results in tendencies towards a binary, male-female balance, but also diversity concerning age, class, gender identity, religion, migrant background and disability," said the report.

"One approach in media policy to achieve a balanced gender representation in news coverage would be to connect public funding for the media to corresponding criteria," it said. It notes a current debate in the county on linking public press subsidies and other media funding to the quality of media content. "One feature of these quality requirements must then also be the establishment of diversity in the newsrooms and their reporting. In this way, media policy incentives could be created to overcome the imbalances in gender representation that still exist in Austria."

It urged media leaders to demonstrate a commitment to gender equality and diversity, "to including women, transgender people and non-binary people at all levels of media production and in the media content," stressing that it "is fundamental to promote gender-egalitarian (mediated) realities."

They should also address longstanding issues such as gender pay gaps, gender-based discrimination in recruitment, employment, and flexible work arrangements for people with children, it added. "Research shows that the use of gender quotas in recruitment is an effective measure to redress gender imbalances within media organizations."

 

View/download the full GMMP Austria report here.