12 Nov

End Impunity on crimes against women journalists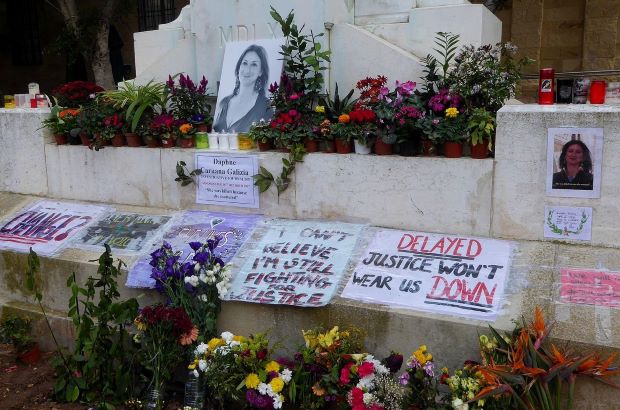 Flowers and posters at the memorial to murdered investigative journalist Daphne Caruana Galizia at the foot of the Great Siege Monument in Valletta, Malta. Galizia's work often focused on allegations of government corruption, nepotism, patronage, money laundering, links between online gambling and organized crime, among others.Photo: Ethan Doyle White/Wikimedia Commons
---
Statement from the Global Alliance on Media and Gender, November 2, 2019
The Global Alliance on Media and Gender (GAMAG) calls on governments, media owners, media professional organisations and reporters to address impunity for violence against women journalists, to strengthen national mechanisms for the protection of women journalists, and to speak out against discrimination.
In 2018, at least six of our sister journalists/media workers lost their lives in the performance of their duties. Moharram Durrani, killed in a bombing targeting journalists in Kabul Afghanistan; Alicia Díaz González was found murdered in her home in Nuevo León state in Mexico; journalist Wendi Winters and assistant Rebecca Smith were gunned down in Annapolis Maryland USA; Hindi Musea died in a tragic accident in Egypt; and TVN journalist Victoria Marinova was found brutally murdered, having been raped, beaten and strangled in Ruse Bulgaria, immediately after interviews on corruption.
It is important to record all deaths, and to note – only one perpetrator has ever been brought to justice for those that were reported. It is also important to note that when discussing the horrifying levels of impunity that emboldens perpetrators – it must include all levels of violence against women journalists; direct forms of violence (targeted violence, torture, murder, femicide, sexual violence, death and familial threats, imprisonment, abuse of sedition and libel laws, bullying, harassment, sexual harassment, domestic partner violence, and online bullying/abuse), as well as indirect forms of violence (forced into insecure and temporary work, poverty, overt discrimination and systemic discrimination).
The MeToo! Movement has helped to highlight how pervasive and tenacious impunity is within the industry, while a recent survey from the International Federation of Journalists (IFJ) has confirmed the huge scale at the office, in the field and in life (1 in 2 report some form of GBV), but has also shown that 2/3s made no formal complaint, 85% of those that did had no resolution, and that up to 3/4s of media workplaces have no reporting or support mechanisms. A similar survey by the Committee to Protect Journalists (CJP) found 70% of women journalists in U.S. and Canada have experienced safety issues or threats.
It is clear that current approaches have had limited impact. And – to date – very little abatement of impunity. Furthermore, fear of retribution continues to silence many, at almost every level, in every country, whether perpetrators are state-sponsored, in the field or the boss.
Tackling pandemic impunity brings a universe of socio-economic, psychological, old fashioned discrimination, economic injustice and inequality, toxic attitudes of male/female roles, an enduring and dangerous belief in ownership of female bodies, acceptance of intimate partner violence, social and cultural beliefs and traditions, and downright ignorance into play. Yet, they are all facets of the same thing: abuse of power = human rights violations.
GAMAG has joined with the UN, ILO, IFJ, civil society, local journalist unions and (some) state actors who have been trying to tackle this abysmal pandemic.
Many levels of coordinated actions will be required to address these myriad forms of abuse of power, human rights violations, threats to press freedom and enduring impunity, including: greater recognition and support of the pivotal role the labour movement, local unions and civil society play, solving inadequate individual/workplace reporting and support mechanisms, UN and state pressure to remove gagging clauses that protect and embolden perpetrators of violence, lack of national harassment and bullying laws – including developing standards for online harassment, lack of implementation of what laws do exist and application of international labour conventions, such as ratifying the ILO Convention Against Violence in the World of Work.
Contact
Aimée Vega Montiel, Chair
Note: Sarah Macharia, WACC Global manager for Gender and Communication, is general secretary of GAMAG.